Image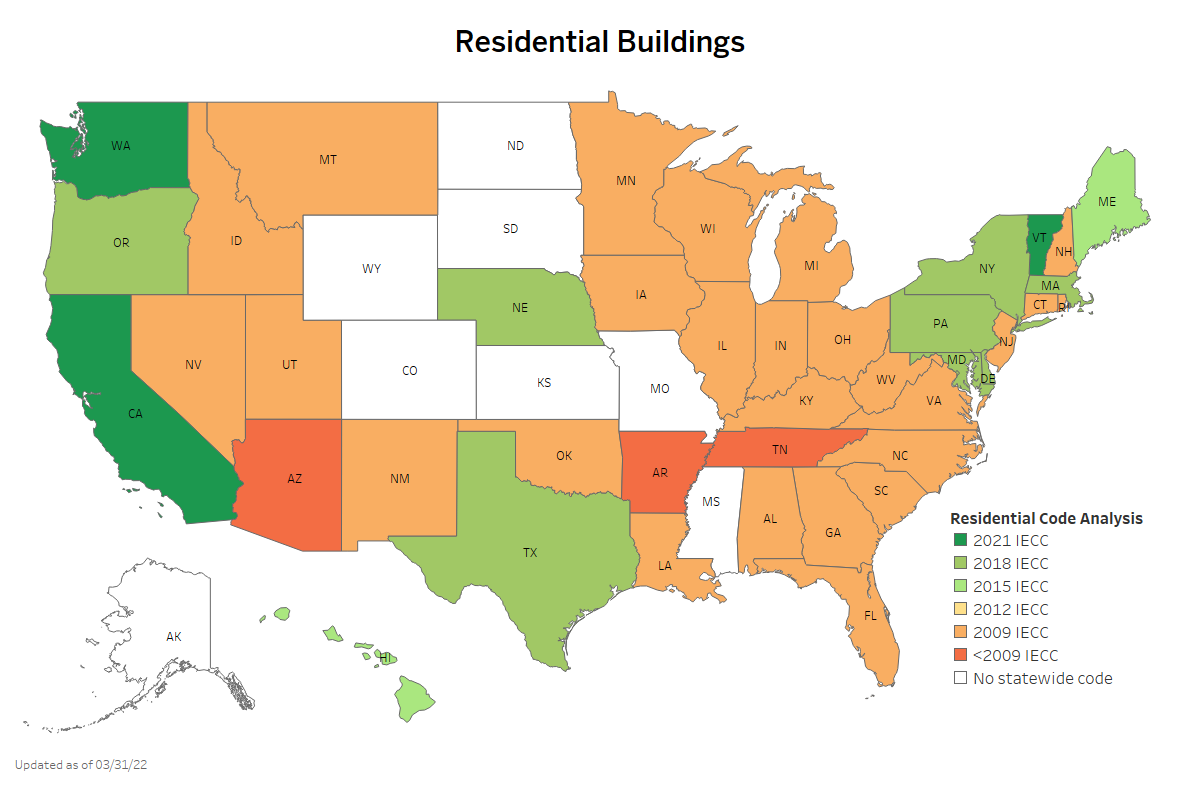 Table 1. Status of State Energy Code Adoption Map Summary - Residential

| State | Current Code (as of 3/31/22) | State Map Legend (as of 3/31/22) |
| --- | --- | --- |
| Alabama | 2015 IECC with amendments | 2009 IECC |
| Alaska | None statewide | No statewide code |
| Arizona* | Home rule | <2009 IECC |
| Arkansas | 2009 IECC with amendments | <2009 IECC |
| California | 2019 Building Energy Efficiency Standards | 2021 IECC |
| Colorado | Home rule | No statewide code |
| Connecticut | 2015 IECC with amendments | 2009 IECC |
| Delaware | 2018 IECC  | 2018 IECC |
| District of Columbia | 2015 IECC with amendments | 2018 IECC |
| Florida | 2018 IECC with amendments | 2009 IECC |
| Georgia | 2015 IECC with amendments | 2009 IECC |
| Hawaii* | Home rule | 2015 IECC |
| Idaho | 2018 IECC with amendments | 2009 IECC |
| Illinois | 2018 IECC with amendments | 2009 IECC |
| Indiana | 2018 IECC with amendments | 2009 IECC |
| Iowa | 2012 IECC with amendments | 2009 IECC |
| Kansas | Home rule | No statewide code |
| Kentucky | 2009 IECC | 2009 IECC |
| Louisiana | 2009 IECC | 2009 IECC |
| Maine | 2015 IECC with amendments | 2015 IECC |
| Maryland | 2018 IECC with amendments | 2018 IECC |
| Massachusetts | 2018 IECC with amendments | 2018 IECC |
| Michigan | 2015 IECC with amendments | 2009 IECC |
| Minnesota | 2012 IECC with amendments | 2009 IECC |
| Mississippi | None statewide | No statewide code |
| Missouri | Home rule | No statewide code |
| Montana | 2018 IECC with amendments | 2009 IECC |
| Nebraska | 2018 IECC | 2018 IECC |
| Nevada | 2018 IECC with amendments | 2009 IECC |
| New Hampshire | 2018 IECC with amendments | 2009 IECC |
| New Jersey | 2018 IECC with amendments | 2009 IECC |
| New Mexico | 2018 IECC with amendments | 2009 IECC |
| New York | 2018 IECC | 2018 IECC |
| North Carolina | 2015 IECC with amendments | 2009 IECC |
| North Dakota | Home rule | No statewide code |
| Ohio | 2018 IECC with amendments | 2009 IECC |
| Oklahoma | 2009 IECC with amendments | 2009 IECC |
| Oregon | 2018 IECC with amendments | 2018 IECC |
| Pennsylvania | 2018 IECC with amendments | 2018 IECC |
| Rhode Island | 2018 IECC with amendments | 2009 IECC |
| South Carolina | 2009 IECC | 2009 IECC |
| South Dakota | Home rule | No statewide code |
| Tennessee | 2018 IECC with amendments | <2009 IECC |
| Texas | 2015 IECC | 2018 IECC |
| Utah | 2015 IECC with amendments | 2009 IECC |
| Vermont | 2018 IECC with amendments | 2021 IECC |
| Virginia | 2018 IECC with amendments | 2009 IECC |
| Washington** | 2018 Washington State Energy Code | 2021 IECC |
| West Virginia | 2009 IECC | 2009 IECC |
| Wisconsin | 2009 IECC with amendments | 2009 IECC |
| Wyoming | Home rule | No statewide code |
*A review of the codes in place in jurisdictions across the state indicates that 86% (Hawaii) and 82% (Arizona) of the population is covered by codes at this level.
**The Washington State Energy Code is based on the 2018 IECC but with significant amendments.
AVAILABLE DATA
The residential state-level results behind the adoption status maps are available.