Image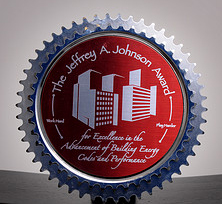 The Jeffrey A. Johnson Award for Excellence in the Advancement of Building Energy Codes recognizes outstanding accomplishments surrounding building energy codes, and is presented annually at the National Energy Codes Conference.
Download the Jeffrey A. Johnson Award application.
 

2023 Jeffrey A. Johnson Award Winner - Charles Eley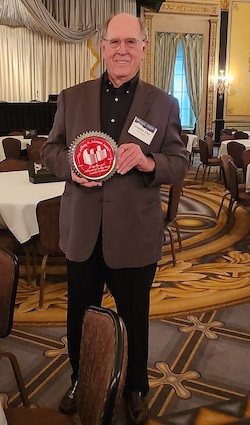 Nomination Criteria
Nominees must meet the following criteria:
Impact: The nominee has made a substantial contribution to increase energy efficiency by advancing building energy code requirements and performance, tools, resources, or processes. Contributions could be to advancing progressive energy code requirements or to tools and resources that promote the adoption, implementation, and enforcement of building energy codes at a state or national level.
Innovation: The nominee fosters new ideas that solve problems or address needs that lead to the realization of energy savings through the use of building energy codes and their performance. The nominee has shown willingness to pursue new ideas not yet proven, and to learn by trial and error.
Collaboration: The nominee advances building energy codes and performance through processes that seek and use input from a broad set of stakeholders. The nominee builds support among a range of constituents for new ideas or approaches.
Passion: The nominee is motivated to create change through commitment to energy efficiency as a path to a sustainable world. The nominee's excitement and enthusiasm inspires others to create and implement solutions.
Past Winners
2019 winner: Ken Baker, Integrated Design Lab, University of Idaho
Image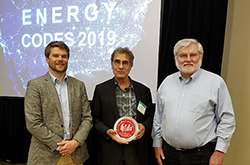 2018 winner: John Wilson, Energy Foundation
Image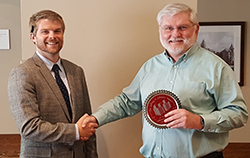 2017 winner: Shaunna Mozingo, Colorado Code Consulting
Image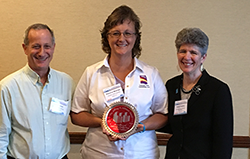 2016 co-winners: the Washington Energy Codes Team and Jim Edelson, New Buildings Institute
Image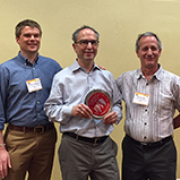 Image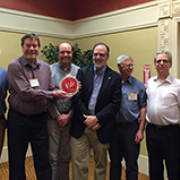 2015 winner: Gary Klein
Image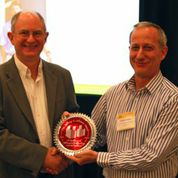 2011 winner: Oregon Building Codes Division
2010 winner: Massachusetts Stretch Code Team
2009 winner: Eric Makela, Britt/Makela Group
2008 winner: Bruce Nelson, Minnesota Department of Commerce
2007 winner: John Hogan, City of Seattle
2006 winner: Bill Pennington, California Energy Commission
---
Presented In Honor of Jeff Johnson
Image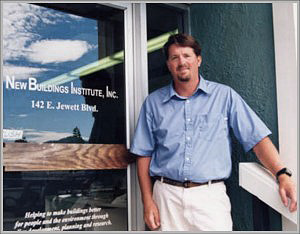 Early in his career, Jeffrey A. Johnson made a significant impact in the California Energy Commission's building energy efficiency standards—Title 24—as the project lead for the Nonresidential Standards.  He was compelled to make a difference at a national level and accepted a position managing DOE's BECP at Pacific Northwest National Laboratory (PNNL). He worked closely with DOE in the development and design of easy-to-use code compliance tools (REScheck™ and COMcheck™), and took a three-pronged approach to integrate research and development, implementation, and deployment at a national level.
Jeff led efforts in the mid-to-late 1990s, in conjunction with state energy code advocates, to write a new commercial energy code that became the basis for the International Energy Conservation Code (IECC).   Today, IECC remains a widely adopted progressive national model energy code. Under Jeff's leadership, the New Buildings Institute launched and became home to Advanced Buildings™, a suite of technical resources, training, and information to improve the way buildings are designed, built, and used.
Jeff lived his life doing what he loved, both at work and at play. He was passionate about life and especially his work in the buildings arena and energy efficiency. He was an enthusiastic, energetic visionary throughout his career at the California Energy Commission, PNNL, and as Executive Director of New Buildings Institute.
Tragically, Jeff died on May 15, 2005, while mountain biking near his home in the Columbia River Gorge.
In 2006, to honor his contributions, DOE established the Jeffrey A. Johnson Award for Excellence in the Advancement of Building Energy Codes and Performance.
The award recognizes a leader or a team in the United States (U.S. territories included) for sustained service of the highest caliber in the pursuit of energy-efficiency goals. The award recipient exemplifies Jeff's enthusiasm, his motivation and drive for innovation, and his can-do, no-fear attitude for making a difference.
The intent of the award is to keep the memory of Jeff Johnson strong, and to continue his vision and excellent performance in the nation's goals for energy-efficient buildings.